Ways restaurant uniform policies strengthen brand identity
Restaurants come in all shapes and sizes with each business establishing its own distinct personality and flavor. As you know, a lot of thought goes into the planning of a restaurant's operation and branding from the size of the restaurant to what to put on the menu. Have you considered how the restaurant uniforms worn by employees can play an important role in your branding? Many restaurants with a uniform requirement find there are many strategic benefits to setting this policy.
Enhance image
As the old saying goes, first impressions matter and restaurant uniforms can go a long way to giving an initial positive reaction. Did you know guests tend to see uniformed restaurant employees as more competent, approachable and trustworthy?
This is backed up by research. According to the Textile Rental Service Association of America (TRSA), a 2015 survey [PDF] found more than a whopping 90 percent of consumers preferred to see employees wearing uniforms in restaurants. It didn't matter if it was fine dining, casual, or fast food, customer preference for each category all landed in that range. Customers tend to view people in uniforms as experts and knowledgeable about their jobs, both of which contribute to a stronger brand image and better customer confidence.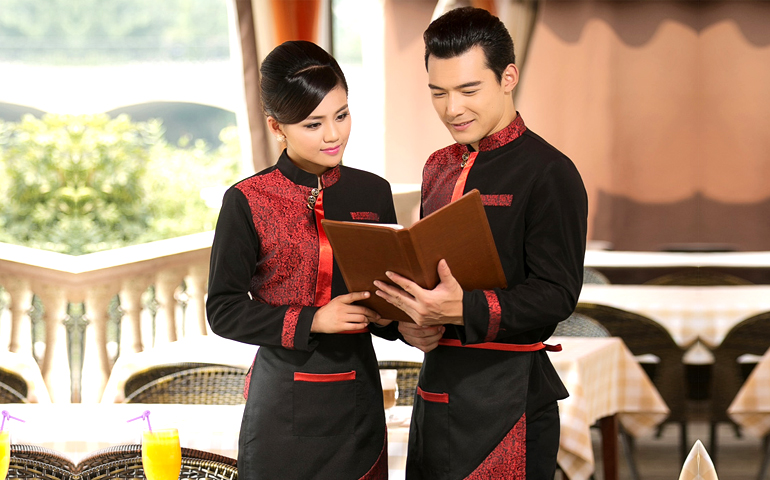 Standardization
There is something to be said for standardization. It's a huge part of establishing a brand's identity, it sparks recognition and, in the restaurant business, is often equated to quality. If you think about it, every big chain restaurant has the same signage, interior design and, for the most part, menu, no matter where the location.
Every business, small and large, can benefit from employees wearing specific clothing. Standard uniforms don't have to be dull, there is plenty of room for customization. Being restaurant uniforms come in a variety of styles, restaurateurs can choose one to fit the establishment's personality, be it sleek, casual, trendy, or classic. The chosen uniform can complement the brand identity the owner(s) wish to convey through style and color.
Professional/neat appearance
Not all restaurants require uniforms, leaving it up to employees to choose what they want to wear as long as it's clean, presentable, safe, and comfortable. However, by establishing a uniform policy, it ensures everyone has a professional and neat appearance. Not to mention, it also makes sure employees are wearing safe and comfortable clothing that enables them to better do their jobs. Uniforms can also promote a team-oriented culture, workplace pride, and a sense of belonging. Employees tend to also be more aware when wearing designated uniforms that they are a part of the brand and are more likely to maintain a higher level of professionalism.
To date, there are more than 620,000 restaurants in the United States. Many of them require employees to wear uniforms because, ultimately, they boost sales as proprietors simultaneously strengthen their business' identity.
Running a restaurant is time-consuming and hard work. Prudential Overall Supply can alleviate some of the stress of your responsibilities by helping you choose the right uniform for your brand. We'll even do the upkeep, keeping your staff supplied with clean uniforms.
Online trading provides facility to customers to trade with wide network because a wide area of peoples is connected with each other at the same platform. People get more benefits
There are many leading companies that provide a lot of spare parts for stone machines like CNC machines, single wire saws, filter presses and more. The companies generally manufactures mobile
Selection and recruitment of employeesare the two basic tasks of a human resource department. In fact, the success or failure of an organization depends on the quality and talent of